PROTECTION, COURAGE, AND HEALING
Tiger's Eye is a stone to release your fears, anxieties, self-loathing, and unlock hidden talents. It's the stone that can give you courage, strength of mind, and self-confidence to tackle anything that will come your way.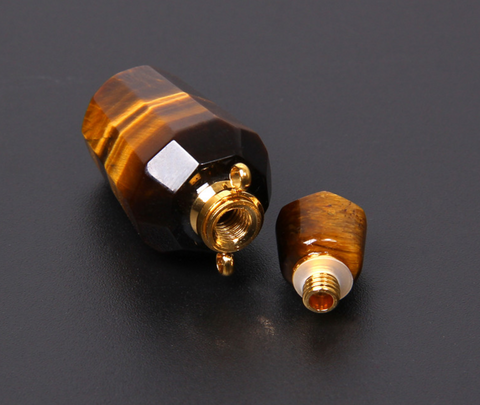 Tiger Eye serves as the spiritual compass that guides you towards the light, helping you harness the powers of the universe in whatever you set out to do, whether it's matters of the heart or the boldest career ambitions.

This stone may help you:
Helps you to release fear and anxiety
Aids harmony and balance
Stimulates taking action, and helps you to make decisions with discernment 
DETAILS:
Stone: Yellow Tiger's eye
Pendant Size:36*19mm
Package Inclusion: 
1 Natural Yellow Tiger`s Eye Perfume Bottle Healing Pendant